Assistant Professor, Teaching Stream
Writing & Rhetoric Program
Courses taught in 2020/2021
WRR311: Seminar on Creative Writing – Fiction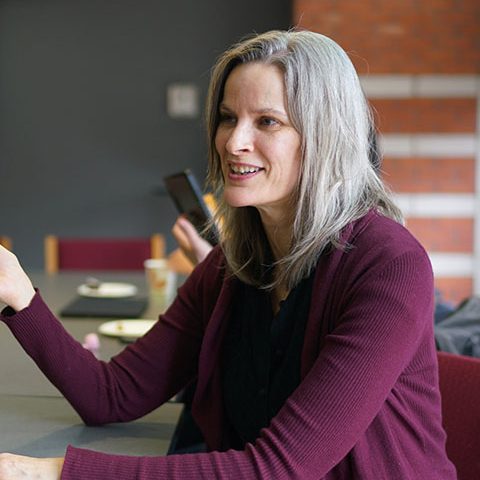 Sharon English has been teaching creative writing in the Writing & Rhetoric Program since 2008, focusing on fiction and creative nonfiction. From 2016-2021, she served as the program's director. During this time, she also directed the Innis One Program, where she taught a course in writing creative nonfiction.
Originally from London, Ontario, Sharon graduated from Western University and studied at the University of British Columbia. Prior to joining Innis, she taught professional writing at Toronto Metropolitan University (formerly Ryerson University), and George Brown College, and worked as a freelance editor. She began teaching at the Innis College Writing Centre in 2000, where she taught for many years, and twice served as the centre's director.
Sharon's books include the newly released novel Night in the World (May 2022), and two collections of short stories, Uncomfortably Numb and Zero Gravity. Zero Gravity was long-listed for the Giller Prize, short-listed for the ReLit Award, and was a Globe & Mail Best 100 title of the year. A translation into Serbian was published in 2020. Night in the World has been described as "a splendid and searing novel, pressed up against the tremours of our times."
Sharon's stories, essays and interviews have also appeared in numerous journals, including Best Canadian Stories, Canadian Notes & Queries (CNQ), Dark Matter: Women Witnessing, and Dark Mountain in Britain. She was guest co-editor of the Winter 2020 special issue of CNQ, "Writing in an Age of Unravelling," which featured writing that addresses ecological crisis.
A research team member of the Persephone Project, Sharon has been dedicated to re-imagining our relationship to home in the context of ecological and social crisis, and to pursuing writing and storytelling that align with the natural world. Her courses involve workshop-based and experiential learning. In 2023, she's excited to be offering a special topics course on land-based writing.
Have questions about W&R?
Need more info? Want to discuss if the Writing & Rhetoric Program is right for you? Looking for help choosing courses? Jannie Chien, Innis College academic program coordinator, can help!